Welcome to the North Forsyth High School
Class Of 1972 web site!
Our
50th Reunion
was held on September 16-17, 2022 - check out the pictures!
Our 45th Reunion was held on September 22-23, 2017 - check out the pictures!
Our 40th Reunion was held on October 12-13, 2012 - check out the pictures!
Do you remember...that ours was the class that won the state 4-A football championship that year? Remember these guys?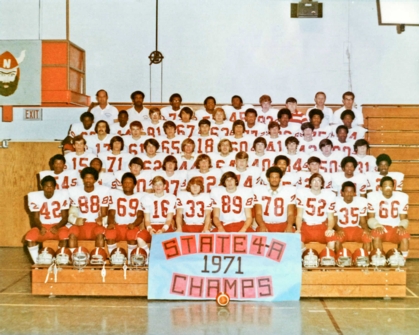 Like to relive the last few minutes of the championship game? Or watch the induction of our championship team into the National High School Hall of Fame? Wow!
If you are new to the site and an alumnus of the class of '72, click on "Viking 72 Profles" on the page menu on the left to activate your membership and create a personal profile page. If you don't see your name on the class list included you can email us and ask that you be added.
We also encourage guest members to join, including former class teachers, members of overlapping classes, family or friends of deceased alumni, and anyone else who feels a connection with our class. If you'd like to join in please send us your request.