Dear NFHS Class of 1972,
Our class Reunion will be here before you know it - please confirm your attendence and send in your payment by August 15th!

$40 per person
Please mail your check by August 15, made payable to:
Dreama Murray Allred
4648 Shelton Ridge Road
Walkertown, NC 27051
A portion of the proceeds received will be sent to North Forsyth to fund special projects.
This will most likely be the last reunion that is planned by your classmates before we merge with other graduating classes. Please help us get the word out to all your former classmates to make sure they're planning on attending our picnic at Tanglewood Park on September 17, 2022 from 4 – 9 PM. Reservations should be made by August 15th so make your plans, stroke those checks and get ready to have a fun filled evening with your fellow Vikings!
We're also hoping that you'll check out the missing classmates list on our website (www.northforsyth72.com) of people that have not signed up on our website and help us get in contact with many of them that you may stay in touch with – we'd love to have the best turn-out we've ever had!

So mark those calendars, book those hotel rooms and send in your check soon so we can make sure our reunion is one to remember! We'll see you in September!
NFHS Class Reunion Committee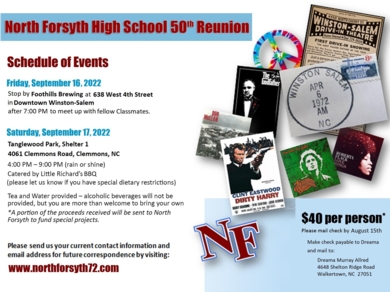 Welcome to the North Forsyth High School
Class Of 1972 web site!
Our 45th Reunion was held on September 22-23, 2017 - check out the pictures!
Our 40th Reunion was held on October 12-13, 2012 - check out the pictures!
Do you remember...that ours was the class that won the state 4-A football championship that year? Remember these guys?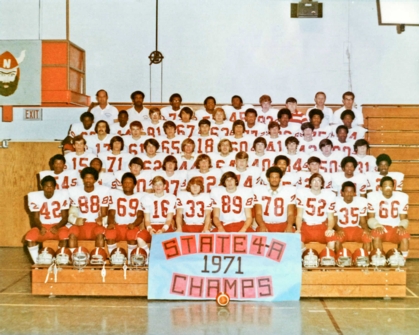 Like to relive the last few minutes of the championship game? Or watch the induction of our championship team into the National High School Hall of Fame? Wow!
If you are new to the site and an alumnus of the class of '72, click on "Viking 72 Profles" on the page menu on the left to activate your membership and create a personal profile page. If you don't see your name on the class list included you can email us and ask that you be added.
We also encourage guest members to join, including former class teachers, members of overlapping classes, family or friends of deceased alumni, and anyone else who feels a connection with our class. If you'd like to join in please send us your request.