In Memory
Robert F. Goodwin VIEW PROFILE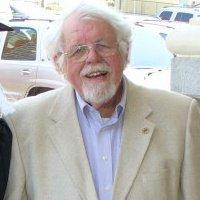 Eulogy/Panegyric for Robert Flournoy Goodwin, Junior
Saint Timothy's Episcopal Church, April 29, 2019
I am Tim Saunders, one of Bob's students and son-in-law. The family would like to thank each one of you for being here. We are honored and comforted by your presence.
In 1971, I was lucky enough to get into Mr. Goodwin's 11th grade Honors English class at North Forsyth High School, but l really lucked out when he was kind enough to take me into his Life 101 class for the next 48 years.
Bob, also known as "Mr. G.", or "The Great One" at North Forsyth, was the ultimate teacher: funny, interesting, challenging. Mr. G's class was never "mundane", the first vocabulary test word each week, and with his antics, you quickly had to learn to separate the wheat from the chaff. Although American literature was the course, the topics were as diverse as Old Testament, Shakespeare, American artists, and cultural issues of the time. He gave us stimulating writing assignments to make us think and write cogently, with the assignments sometimes graded by his "impartial grader", his wife, Caroline. His humor, wit and gift for the outrageous always made the classroom open for a little give and take. He assigned my vocabulary word one week as "ingratiating", and asked me if I knew what the word meant. I replied "Mr. G., how thin and fit you are looking these days." He loved it.
Guys got a taste of "reverse" gender discrimination. If you were a girl in his class, you had it made.
As his students, we had to read Emerson's essay on Self-reliance, write book reports on ten Pulitzer Prize or National Book Award winning books, and memorize multiple lines from Macbeth, which we, as was the case for Bob, will still all probably be able to recite the last week of our lives. Mr. Goodwin took us to various activities outside the classroom, above and beyond the call of duty, such as plays, museums, Six Flags over Georgia. My year, he chartered a bus to Charlotte, and took us to hear Bill Russell, the great Boston Celtic player and coach, talk about sports and life. Of course, we also had to stop at Bob's favorite restaurant in Charlotte - Leo's Deli, for a Leo's Special, piled high with pastrami.
Bob's class was a springboard for many of us to a new world of thoughts, ideas and culture that would carry us to college, and to the greater world. One student credits Mr. Goodwin with being the first adult to take her seriously. Another student said, "Mr. Goodwin believed in me before I believed in myself". He was invested in his students, sometimes the first to see in them a spark of something special, and a nudge to push harder, to aim higher than they had ever imagined.
He was also the school Key Club adviser. There we learned the ABCs of true service, and he was always there with us for the journey. He taught us if you were there just to receive recognition for your good deeds, you were in it for the wrong reason. He assisted many students in various silent ways over the years. A testament to his faith through actions, not words. For instance, he and Caroline were the source of the anonymous donor scholarship at North Forsyth for decades. A few years ago, his daughters let the cat out of the bag and upped the ante, awarding a scholarship in their parents' name each year at North Forsyth where today only half the students are college bound.
Bob remained in touch after we left his classroom. For me, he was there at my mom's funeral after my freshman year in college. He was present at many events for his students, our games, tennis matches, recitals, weddings, class reunions. Nothing pleased him more than to run into a student about town, or even better when former students came to visit him.
If anyone here today ever taught school with Bob, or were one of his students or in his Key club or on a tennis team he coached, I invite you to stand up. Thank you for being here today. And, need I say more about the importance of having good teachers in our schools! Teachers remain undervalued, under recognized and under rewarded in our society.
Bob loved to talk about his fantastic, talented, beautiful daughters in class, Cobey, Lisa and Ginny. I was sold. It took about 10 years, but I eventually married his middle daughter, Lisa, my greatest gift from Bob and Caroline.
He then taught the life lesson of how to be a husband, father, and grandparent, not by lecture but by example. His wonderful relationship with his wife Caroline, demonstrated both the "team" approach to parenting, and how to always be there to support without being intrusive. He was there for important life events, whether a school performance or game, and willing to make an emergency trip at a moment's notice, like when you happened to break your ankle skiing with your 10 year old son in the NC mountains.
He was "Pop" to his grandchildren. He was a grandparent that always wanted to know what was happening in their lives, but also to assure that his grandchildren were prepared for college and life.
He retained his wit, humor, and interest in others as he weathered the "vicissitudes" of his last few years, vicissitudes being the final spelling word each week. He could still spin a good tale from years gone by from his voluminous inventory of stories of his life on stage, and the one liner quips never left. We are thankful for his life of service as a teacher, friend, and father, which will reap dividends and a have ripple effect for years to come. I could not have asked for a better teacher for Life 101.
Tim Saunders
https://www.journalnow.com/obituaries/goodwin-robert-flournoy/article_f057ecb6-6d98-53df-85ca-39227992a9fc.html
Click here to see Robert F.'s last Profile entry.