In Memory
Tim Tuttle VIEW PROFILE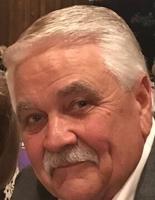 Timothy Joel Tuttle (Tim), 67, passed away Wednesday, January 26th at Forsyth Medical Center following a short illness.
Tim was born July 16, 1954 to Reamer Wiley "Buck" and Louise Westmoreland Tuttle of Winston-Salem. Tim was well known throughout this area and beyond as a businessman and cattleman. He and his brothers, Larry and Don, owned and operated Forsyth Container Service for many years before its sale to Waste Management. Tim then embarked with his brothers into the farm supply business in 1990 with the opening of LTD Farm & Garden in King. LTD was Tim's vision of a locally owned, service oriented farm store.
Together with his business partner and friend, Steve Preston, they became kindred spirits in building a business worthy of the customers that walked in the door, many of whom becoming lifelong friends. Tim built the foundation for LTD from the ground up and, for almost 32 years, breathed leadership, knowledge and expertise into the store and its employees. Over those years, he helped customers, not only at LTD, but often on their farm where he checked weeds in a pasture or doctored a cow, then going to his own farm in Westfield where he fed his cattle, tended his land and mended his fences, all after a day's work.
Tim was a man of quiet strength who was respected for his wisdom, integrity and work ethic for which people admired him. He was more than a businessman, he was a friend, often jesting, "I'd rather make friends than money." It always brought a smile to his face when told he was just like "Buck," his dad. Tim had a personal motto; "I'm gonna get up, put my boots on and go to work." Most importantly, he loved his lovely bride, especially her servant heart for everyone she meets. The couple spent the majority of their time enjoying life with their grandkids, the light of their lives. He taught the boys a wealth of knowledge about farming but, more so, many life lessons to carry on for generations to come. His legacy is one that will live on through his family, friends and LTD.
Tim was preceded in passing by his parents, Buck and Louise, his brother Larry Tuttle (Joy) and his sister Nancy Tuttle. Tim is survived by his lovely bride of 47 years, Deborah Calloway Tuttle of the home, son Clay Tuttle (Tommi), son Casey Tuttle (Christy), brother Don Tuttle, sister Dana Edwards (Greg), grandchildren Jaden, Lyla, Emery, Kohl, Jasper and Ila Tuttle, nieces Shawn Rierson (Chris), Shannon Kurz (Jeff) and Traci Young (Bill), three great nieces and a great nephew, extended family Randy, Joy and Macy Rutledge, close friends Steve and Carolyn Preston and the LTD family and friends.
The family will have a private burial service. A Celebration of Life will be held at a later date. Memorials may be made to the Down Syndrome Association of Greater Winston-Salem, NC, 305 W. Fourth St, Suite #B11, Winston-Salem, NC 27101 or St. Jude Children's Research Hospital, 262 Danny Thomas Place, Memphis, TN 38105 or Hope Pregnancy Care Center, 117 Charles Rd., King, NC 27021 or Access Books and More, 111 East Main St., Pilot Mountain, NC 27041 or Living Word Christian Academy, 321 Newsome Rd., King, NC 27021.
https://www.legacy.com/us/obituaries/winstonsalem/name/tim-tuttle-obituary?id=32545605
Click here to see Tim's last Profile entry.