North Forsyth


Class Of 1972
ANNOUNCEMENTS
•

The Mark Grubbs Scholarship has been awarded to a senior at North every year since 1977 when his family established the scholarship in his memory. For the last 18 years (while teaching at North and even now since I have retired), I have been overseeing this scholarship for Mrs. Grubbs. Every year I interview candidates ranked academically in the top 1% of the class and consider financial need as well in order to award a scholarship to one student. For many years, Mrs. Grubbs and I have been the only contributors to this scholarship. Many of you may not even know that this scholarship fund exists, so I asked her permission to post this message to our class. I interviewed candidates last week and was really awestruck by the high caliber of students I'm seeing in this academic group; for the last two years, I've had a most difficult time choosing only one candidate because all of them have been outstanding not only academically, but also in sports, clubs, and community service. If you would like to join us in contributing to this scholarship, it would be greatly appreciated. All gifts are tax deductible, and if interested, checks need to be made out to North Forsyth High School with the words "Mark Grubbs Scholarship" on the memo line. The mailing address for North is:

North Forsyth High School
5705 Shattalon Drive
Winston-Salem, NC 27105.
Attn: Wendy Smith, Bookkeeper.

Thanks so much everyone!
Kathy Conrad VanSutphen

P.S. Good news - North had a Morehead-Cain winner this year, the first one in about 7 years!
Welcome to the North Forsyth High School
Class Of 1972 web site!
Our 40 Year Reunion was held on October 12-13, 2012 - check out the pictures!
Do you remember...that ours was the class that won the state 4-A football championship that year? You might enjoy reading this article from the 2009 Winston-Salem Journal. Remember these guys?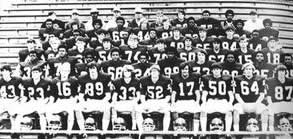 If you are new to the site and an alumnus of the class of '72, click on "Viking 72 Profles" on the page menu on the left to activate your membership and create a personal profile page. If you don't see your name on the class list included you can email us and ask that you be added.
We also encourage guest members to join, including former class teachers, members of 'nearby' classes, family or friends of deceased alumni, and all others who feel a connection with our class; if you'd like to participate please send us your request.